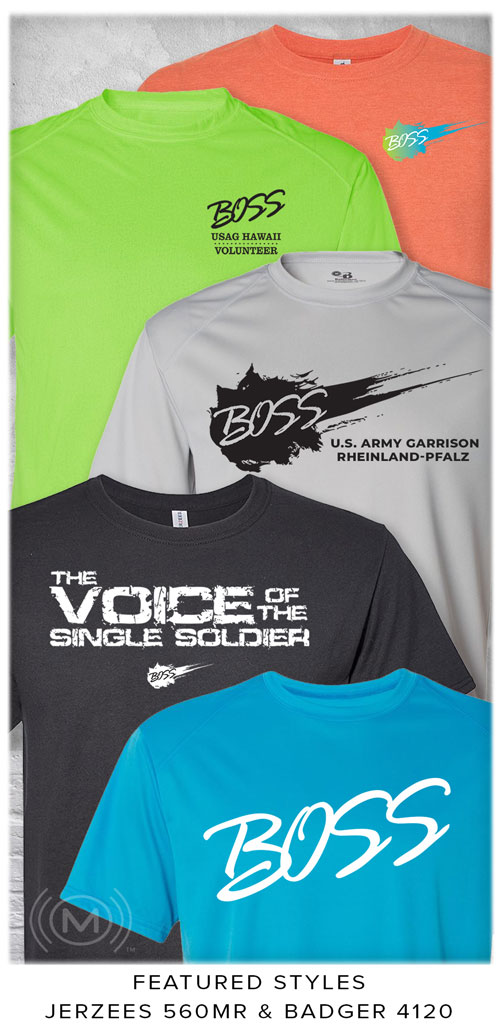 SCREEN PRINTING
BOSS BLEND LOGO
Printed apparel pricing is based upon the number of design locations, the affiliated inks colors and the apparel product. The 2-color BOSS blend logo on a white 50/50 or 100% cotton tee blossoms into a 4 or 5 color design on darker fabrics. This increase in color is due to two reasons. First, is the need to underbase (think primer) the design on colored shirts in order to maintain color vibrancy. And second, is the necessity to print the white BOSS text. Add an installation name in a color other than white and there's a 5th color.
Polyesters present another issue with the need to underbase the entire design in order to mitigate what is called color migration. So, on a color polyester shirt a poly underbase is used plus white design underbase, plus the design colors, or now (6) total prints. (6) is also the recommended print limit on polyester fabrics due to the degradation that occurs from the drying heat applied after each color.
The design gradient of the full color BOSS logo and the use of mesh screens in this type of fabric printing causes another issue. The lime and blue gradients applied overtop an underbase print, can lead to a less-than-optimal result. Why? The density of the mesh screens. Lower mesh screen counts are used for solid ink coverage design areas, while higher mesh screens are sued for gradients. The former allows the maximum flow of ink, while the latter is used for smaller design details (gradients). To optimize the BOSS gradient print, (4) screens should be used for the lime and blue color; (1) set for the solids and (1) set for the gradients. Now we have possibly (8) total print stations for the full color BOSS logo.
Finally, there are the fees associated with screen set-ups and color matching. The screen set-ups are incurred for each color and location, while the color matching fees arise for the non-stock lime and blue logo shades. These fees can be absorbed on higher volume runs, but are cost prohibitive on smaller orders, forcing the buying program to a budget minded shirt. What's the answer?